This October, 20th to be very specific, Team TOD held our first and extremely grand Chinese cultural festival – "A Date With China" at Cafe Katha on FC Road. This one of a kind event had never before taken place in Pune.
The Oriental Dialogue conceptualised and executed this beautiful celebration of Chinese heritage and culture after a month of planning and hard work. Our team, led by Aditi, created an outline for the festival, researched Chinese culture, designed unique activities and put together an exquisite Chinese experience for the participants.
So, at approximately 12.30 pm on October 20th, our core team consisting of teachers and volunteers arrived at Cafe Katha to begin the process of setting up our Date! What followed over the next couple of hours was moving tables, sticking signboards, decorating the venue and lots of enthusiastic chatter and team bonding.
It was a rainy day, and we were worried about the rain dampening the spirits of our visitors. But as the clock turned 3, we realised that all our fears were completely unfounded. Excited participants started entering Cafe Katha to go on "A Date With China".
The journey for our participants began with piping hot Chinese tea. Our team member Erika, who not just served the tea, but also educated guests about the flavours and origins of each type of tea. We had set up an authentic Chinese tea ceremony for our visitors to enjoy. Our guests got a chance to try different flavours of the tea from Oolong to Green tea to Flower infused tea. For most of our participants whose exposure to tea was limited to traditional Indian tea, this was a novel experience.
Our visitors then spent some time learning about Chinese astrology with Pradnya. We helped them find their Chinese zodiac sign. But we didn't stop there, based on their zodiac sign, we also gave them some insights into their fortune for 2020!
We had a wonderfully unique stall where our guests could go and get a Chinese name. Names in China are composed of 2 parts: the family name (the surname) and the given name (the first name of the person). The first part is the family name, and the latter part is the given name. So, our volunteers helped participants find the right Chinese names for them, which symbolised their best virtues or resembled their current names.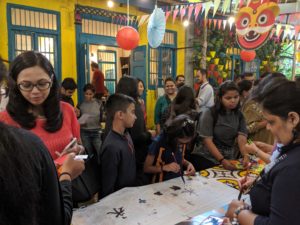 Our Calligraphy expert, Gouri, had laid out long drawing sheets, brushes and black ink at the table. Our participants tried their hand at writing Hanzi (Chinese characters). It was incredible to watch people with no knowledge of the Chinese language pick up the brush and write Hanzis!
Our Date also showcased one of the most vibrant aspects of the Chinese theatre – Opera. Traditionally performers in Chinese Operas paint their faces to represent the traits of their characters. Our teammates Suruchi and Purva created the outlines of the masks and asked our participants to colour them however they liked. The results were visually stunning, to say the least. Our guests brought to life some new and fresh "faces" with their creativity!
After Mask Paintings, our participants moved towards Paper Art aka Origami. The Chinese art of paper folding is called "Zhezhi". Our volunteers taught our guests to make paper cranes. We also told the participants the old Chinese legend that the maker of a thousand paper cranes will be granted one wish. Along with paper folding, we also gave small demonstrations about paper cutting. Paper cutting is an art as old as time. It has a special place in Chinese decorations and interior aesthetics. These were immensely enjoyed by the guests, especially the younger ones.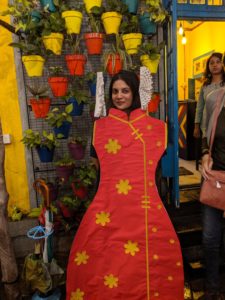 That's not all, Saniya taught our participants a vital survival skill for their future Chinese sojourns. We gave them a live lesson on how to use chopsticks like a pro. We started with the basics and showed them the right technique of holding chopsticks and demonstrated how to pick up food with it. For our demonstration, we had placed a bowl of peanuts, and anyone who could pick up three peanuts in a row with their chopsticks was given a special prize. The chopsticks stall virtually became a small gaming arena, with participants egging each other on.
But really, what's a date without some lip-smacking food, right? We served steaming hot (literally!) dumplings to all of our guests. In fact, if you walked through the entire venue, all you could smell was the powerful aroma of Chinese tea and mouth-watering dumplings.
The atmosphere of the event was charged with laughter, merriment and an excitement to learn more about our neighbour. The conversations were driven with curious questions about the art, language and culture of China. Our team had a splendid time walking people through the basics of Chinese language and the opportunities for learning and employment out there.
We had set up a small trivia quiz that everyone could take part in. There were some general knowledge questions about China and some questions about identifying characters placed all around the venue. One could see participants squinting and discussing which Chinese character is hidden where at the site! It almost felt like a mini-treasure hunt that the guests had a blast taking part in.
At the end of the venue, we had put up a large cut out of an adorable Chinese man with a tea kettle, where our participants gave their valuable feedback to Apoorva.
Indian student Devashree who had come to the event with her friend Namrata said, "I loved the event, and the best part was getting my own Chinese name." On the other hand, Namrata went gaga over calligraphy, "The best part about the event (for me) was getting to do Chinese calligraphy, which is not easily possible otherwise."
Chrissy, an American national, found the event super-informative. Her favourite part was learning about Chinese astrology. She said, " I found out that I am the year of the Dragon (according to the Chinese zodiac) which was really cool and accurate!"
Xiaoyin, a Chinese citizen, who stopped by at our Date, was incredibly happy to soak in a little part of her culture so many miles away! A joyous and proud Xiaoyin said, "It is impressive to see that so many Indian friends are interested in Chinese language and culture."
This fantastic Date could not have been possible without our excellent team. We would like to take this opportunity to give a special shoutout to our team members starting with the core circle – Aditi, Ashish, Gouri, Akshata, Sanhita, Shirin, Rujuta and Apoorva. And the true champions of the event, our volunteers – Erika, Suruchi, Geyatee, Pradnya, Purva, Prathamesh, Vedanti, Poonam, Saniya and Girija. Thank you guys for helping us put together a fabulous Date!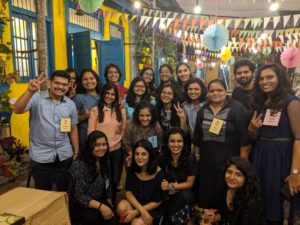 Last but not least, we are incredibly grateful to each and every one of the participants who made "A Date With China" a successful event. To you we say, Let's go on another date soon! 😉